Tasmania has put it's hand up as offering some of Australia's best hikes and trail runs. From beginner to experienced adventurers, exploring Tasmania's jaw dropping wilderness areas should be at the tope of your Australian bucket list.
Tasmania offers a huge amount variety of trail running events including the Tassie Trail Fest, Cradle Mountain Run, Gone Nuts Ultra, Bruny Island Ultra and the Takayna Ultra. All of these events are spectacular, however, we have selected our favourite locations to get off the beaten track, avoid the crowds and go trail running and hiking in Tasmania.
1. Mt. Anne & Mt. Lot
The Mt. Anne and Mt. Lott trail run is located in one of the most pristine wilderness areas within Australia, the South West National Park. If you ask most Tasmanians, they can tell you the vague direction in which Mt. Anne is located. However, many haven't heard of it.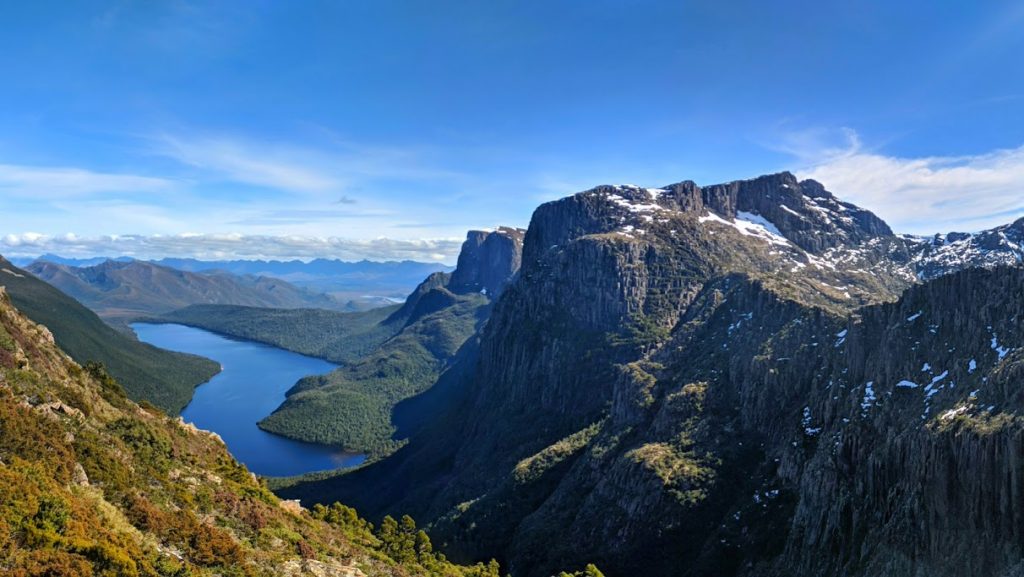 Location: 2.5 hours from Hobart. The trail head is located just off Scotts Peak rd. The last town you will pass through is Maydena, the mountain bike capital of Southern Tas.
Distance: Mt. Anne Alone is 15km return. For the adventurous, we recommend adding the superb Mt. Lot for a 23-24km return day.
Elevation Gain: 1,994m
Duration: Running: Allow at least 8-10 hours for this epic journey. We spent 8.5 hours which included a lot of time taking in the views from Mt. Anne and Mt. Lot, enjoying the ancient geology and flora whilst catching our breath. Hiking: Allow from sunrise to sunset. Bring a head torch, this is a long day.
Difficulty: Very difficult. Rocky, slow terrain with a few simple bouldering moves required to reach the top of Mt. Anne and Mt. Lot. Bring plenty of food and water. You can fill your water bottles up at a few water flows, depending on the time of year. There is also a small emergency shelter early in the hike with a composting toilet. You can fill water bottles with untreated water.
Where to eat: Due to Mt. Anne's remote location, cafe's and restaurants are few and far between. If you plan to camp overnight, the Possum Shed Cafe is a great pit stop on the way home the next morning. This quaint little cafe offers fantastic coffee with beautiful riverside views.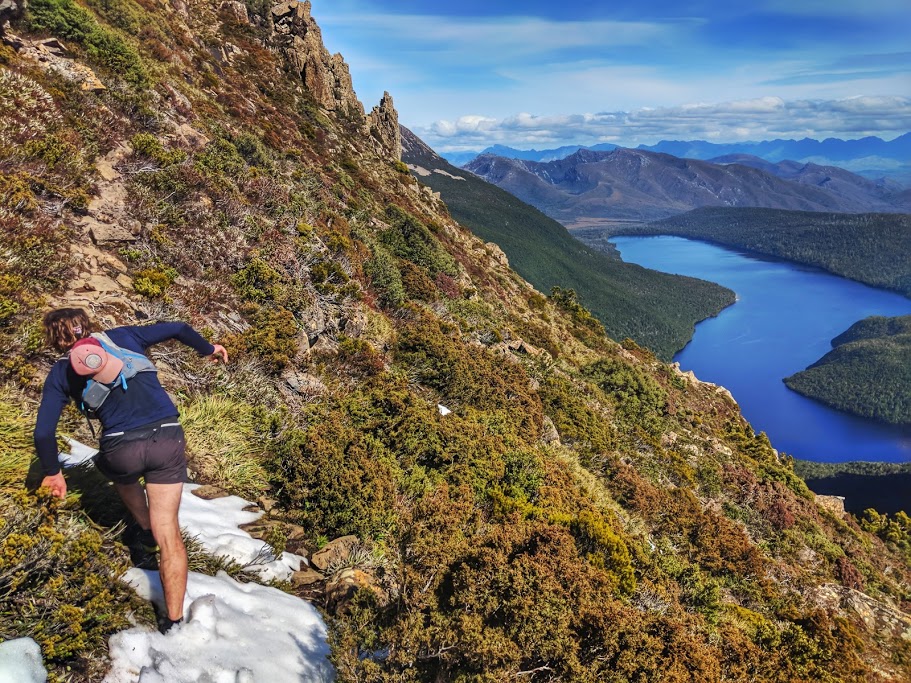 2. Cape Pillar Circuit (Three Capes Track)
The Cape Pillar circuit is Tasmania's premier hiking track. The track provides spectacular views of Monolithic sea cliffs jutting out of the ocean. The track has been upgraded significantly over the past few years, with several companies overing multi-day hikes and accomodation in eco cabins. The track is also known as the Three Capes Track (despite only encountering 2 capes). For those seeking a free adventure, trail running the circuit is a very doable option.
Location: 1.5 hours from hobart. Park an Fortescue Bay day parking area. The trail head for Cape Pillar is located a 3-4 minute walk back along Fortescue Road.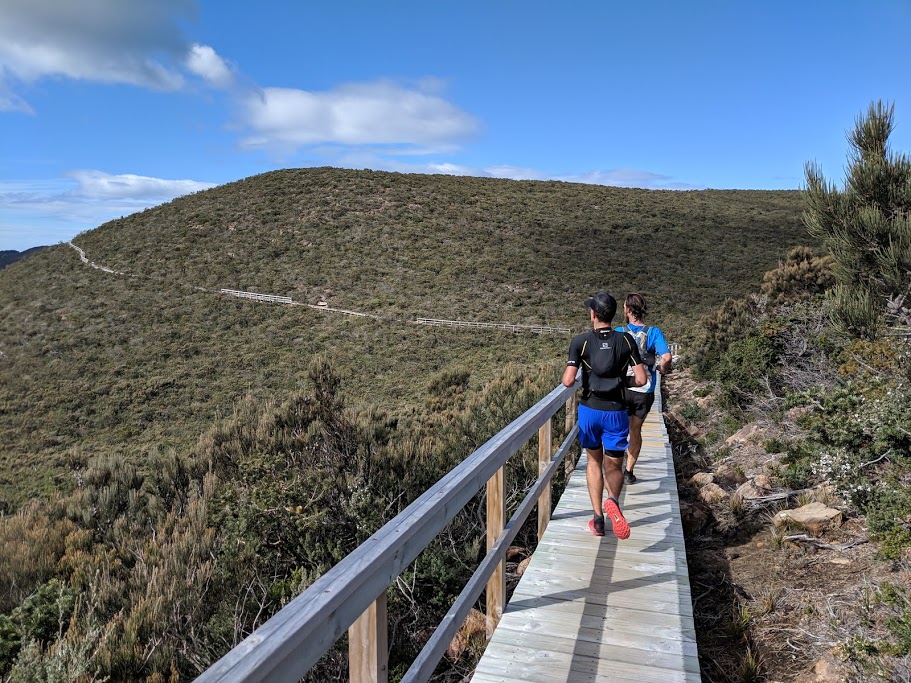 Distance: 40.5km for the entire circuit. The Cape Huay track can be missed for a 36-37km total (this is not recommended as Cape Huay is beautiful).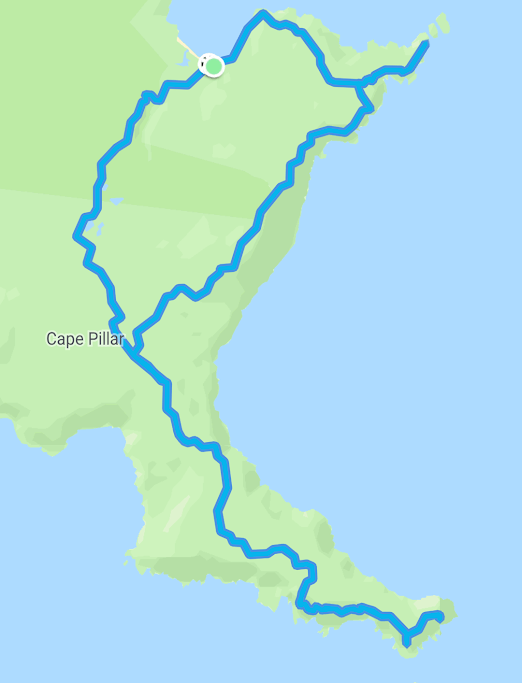 Elevation Gain: 1500-1600m
Duration: Running: 6-7 hours. Hiking: 10-14 hours.
Difficulty: Moderate – Hard. Despite the length of this track, the terrain is fairly safe. Mostly compacted earth with a few boardwalks. There are 2 eco huts where you can fill up your water bottles. These huts also contain public access toilets.
Where to eat: We recommended taking a packed lunch with plenty of snacks for this epic day. However, to wake ourself up the next morning we recommend heading to Cubed Espresso for one of Tasmania's best coffee's. Cubed Espresso is located on Pirates Bay Drive at the Tasman Bay National Park lookout. This delightful coffee caravan offers superb coffee and a variety of cakes and breads to give life back to your tired legs.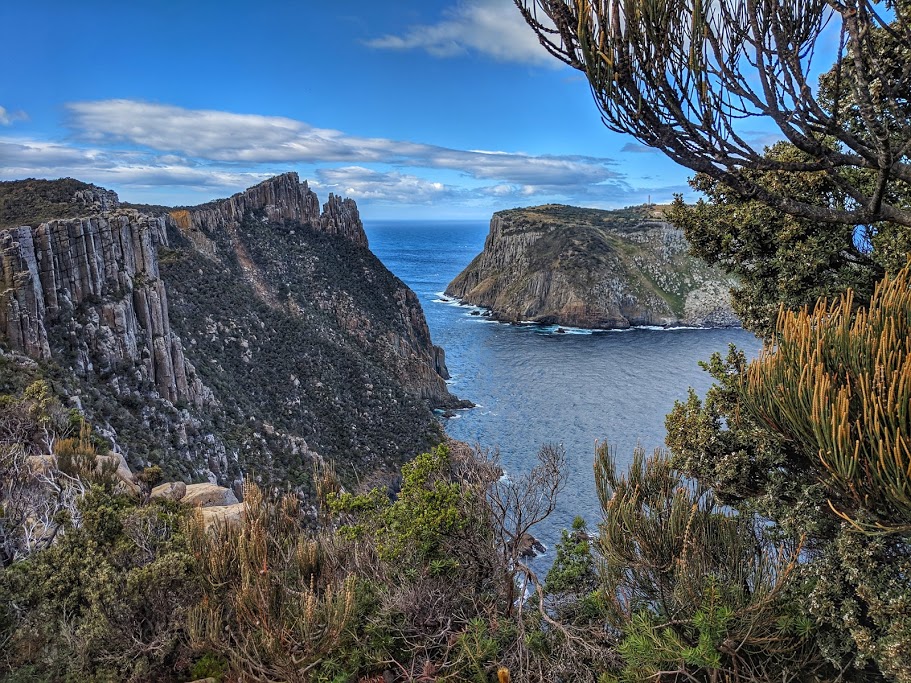 3. Hartz Peak
Hartz Peak offers a slightly more gentle introduction to trail running in Tasmania. It's a shorter track located on the fringes of the South West National Park. Whilst taking in the views from the top of Hartz Peak, you would be forgiven for thinking you had stepped back into the Jurassic period.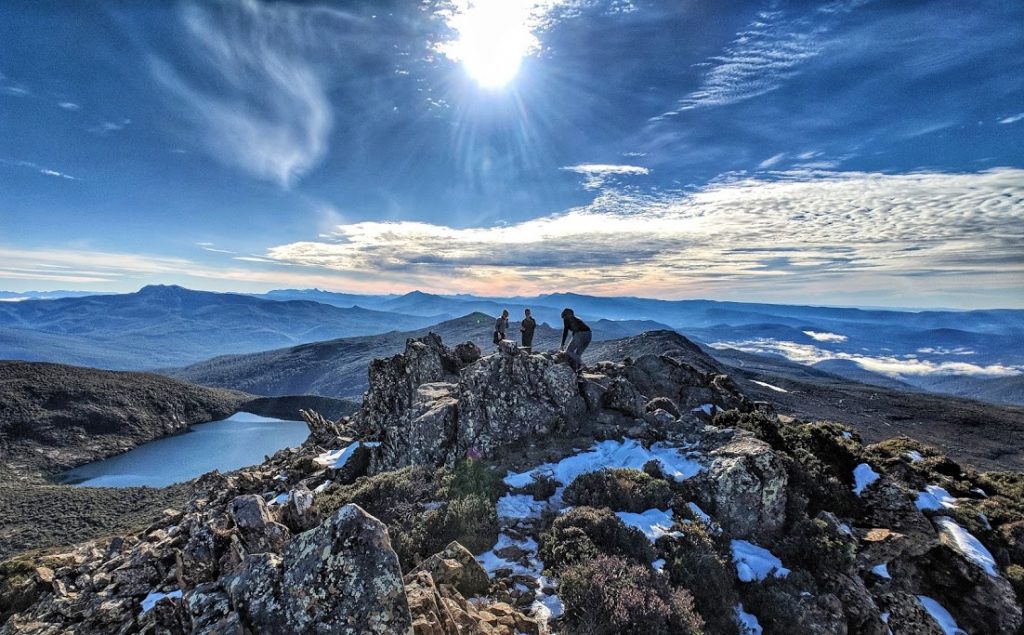 Location: 1.5 hours from Hobart. The track head is well signed at the end of Hartz Rd.
Distance: 8km
Elevation: 400m
Duration: Running: 2-3 hours. Hiking: 4 hours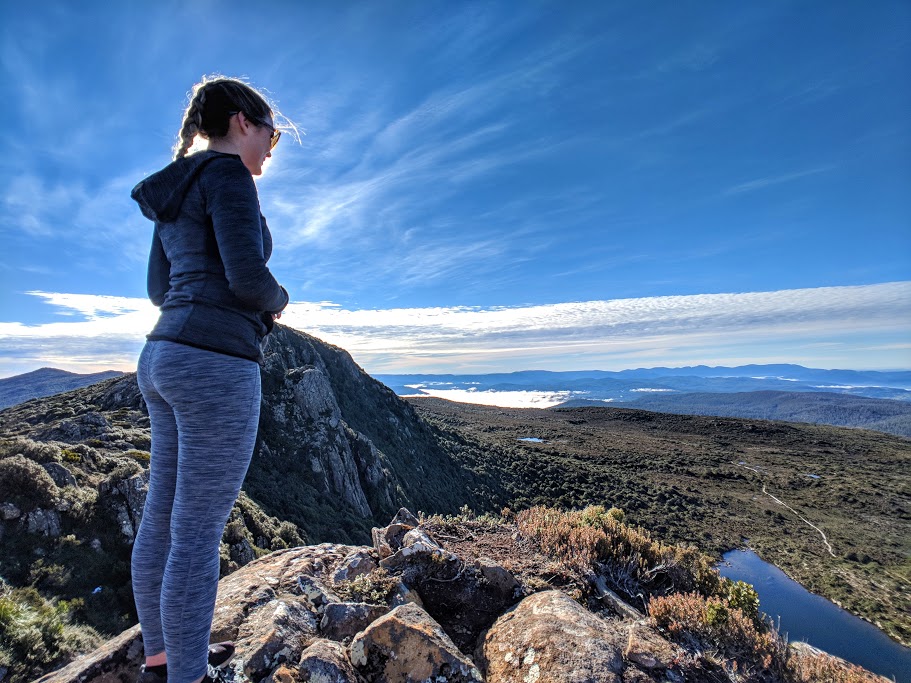 Difficulty: Moderate. The Hartz Peak track is a mix of boardwalk, rock and compacted earth. The final climb to the summit is over very rocky terrain. With good weather, this track is very easy. However, the notorious weather in the South West National Park can offer gale force winds and heavy rain. Please come prepared.
Where to eat: On your way home, stop by at the famous Masaaki's Sushi in Geeveston, Tasmania. Chef Masaaki, also known as the Surfing Sushi Chef, offers what some say is the best sushi in Australia. Make sure you book ahead as he is well cemented on the Australian Foodie Map.
Other Trail Runs in Tasmania
These are just 3 of our favourite locations to go trail running in Tasmania. Also check out other amazing hikes/trail runs in Tasmania including Frenchman's Cap, Cradle Mountain Summit, Freycinet Peninsula Circuit and any of the spectacular tracks on the local Kunanyi/Mt. Wellington.