Making an endurance training program can be difficult for most runners. Sticking to a training plan can be even harder. Below we outline an easy method to determine if you are training as effectively as possible.
The 80:20 Method of Maximising Endurance
The 80:20 method is a basic principle of endurance training. When followed correctly, the 80:20 method will maximise your endurance gains and reduce the risk of overtraining!
Simply, 80% of your running volume should be in Zone 1 (low intensity) whilst 20% should be in zone 2 & 3 (high intensity) combined. The table below outlines the basics.
Research suggests that in moderately trained individuals, high intensity interval training will improve VO2 Max values significantly more than doing the same volume of running at sub-maximal intensities (Helgerud et al., 2007). Therefor it is essential to include high intensity training in your program, rather than always running at the same moderate pace as most runners do.
The two tables below outline the different "zones" of training intensity in relation to heart rate and rate of perceived exertion (RPE). RPE is a scale from 0 – 10, where 0 is sitting on the couch and 10 is working as hard as you can possibly imagine. We prefer to use RPE rather than heart rate when determining how hard a workout is. This is because wrist heart rate monitors can be unreliable and heart rate can be influenced by other factors such as caffeine and stress.
---
Heart Rate Training and Rate of Perceived Exertion

---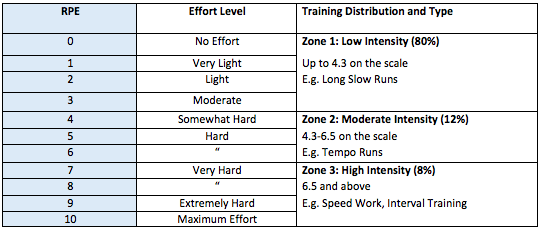 ---
Zone 1
Long slow runs. These are the mainstay of any endurance athletes training program. They are the long days out, best run at "conversational pace". In combination with high intensity training, long slow runs have a significant role in improving performance markers such as running economy. They also improve your bodies ability to tolerate the load of running long distances.
Zone 2
These are your "Threshold runs" or "Tempo runs". This is a much smaller proportion of your overall training volume. Threshold runs are run at a "comfortably hard" pace, usually similar to an athletes 10km race pace, or 15s/km faster for well-trained athletes.
Zone 3
High intensity training. This type of training involves intervals of all out bouts of high intensity running, with rest breaks between each interval.
Read more about High Intensity Interval Training here or check out our 9 week HIIT training block to maximise your VO2max .
Improving VO2 Max is only one aspect of endurance training, it is not the be all and end all. However, increasing VO2 Max will make easy runs naturally faster, as your perceived effort at a certain speed will reduce.
Quick Tip
Two hours after each run, write down your rate of perceived exertion. If you use an online run tracker such as Strava, write your RPE in the description of the run. This will help you track how hard you are working how you have improvement. For example, over the space of 6 months your tempo 10km run at 4:30 min/km may reduce from a 7/10 RPE to 4/10 RPE.
References
Helgerud, J., Hoydal, K., Wang, E., Karlsen, T., Berg, P., Bjerkaas, M., Simonsen, T., Helgesen, C., Hjorth, N., Bach, R. & Hoff J. (2007). Aerobic high-intensity intervals improve V̇O2max more than moderate training. Medicine and Science in Sports and Exercise, 39(4), 665-671.