Trail running shoes are designed to tackle the varied terrain encountered on trails, including rocks, mud, rivers as well as loose stones and dirt. However, it's important to know that not all trail running shoes are made equal and some will handle different terrains better than others, depending on design.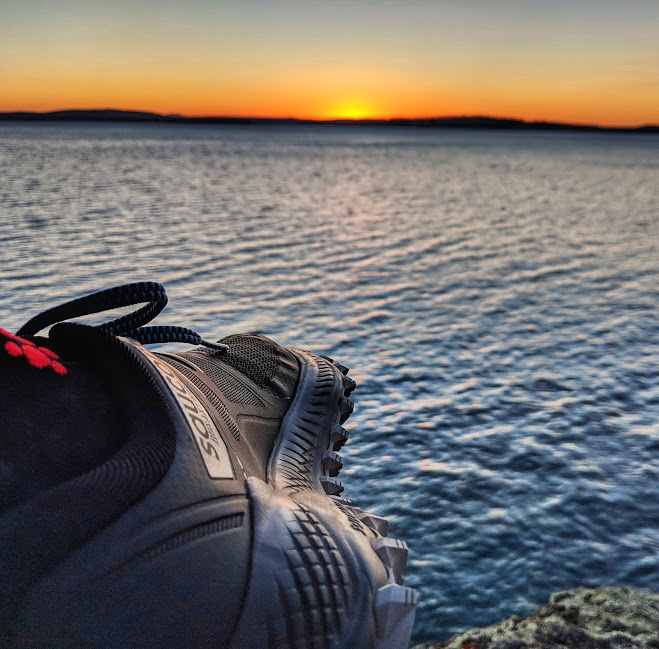 If you are heading into the big dirt-filled world of trail running and feel your road runners aren't going cut it, it may be a good idea to invest in some trail runners.
Why and when do I need trail running shoes?
Trail running shoes are not always essential. Many standard road running shoes can easily handle the well groomed compacted earth trails at your local park. However, as soon as you want to head off the beaten track, you will likely require trail running shoes. Most road running shoes are made of lighter, more breathable and less durable materials. This is great for speed and comfort on the roads, however they will quickly clog with mud and tear at the seems after a few kilometres on rough trails.
So how do you find the best trail running shoes for you? Our guide below explains what to look for in your next pair of trail running shoes.
1. Trail Runner Tread
The first aspect of a shoe you need to look at is the outsole/tread. This is the most outer part of the shoe that comes into contact with the ground.
Most trail running outsoles consist of lugs. Lugs are deep indentations in the tread which give trail shoes far superior traction on unstable and slippery surfaces.
Below we show you 3 different types of lugs and what terrains they are perform best on.
Salomon Speed Cross with long, rigid lugs. Made for wet and muddy trails.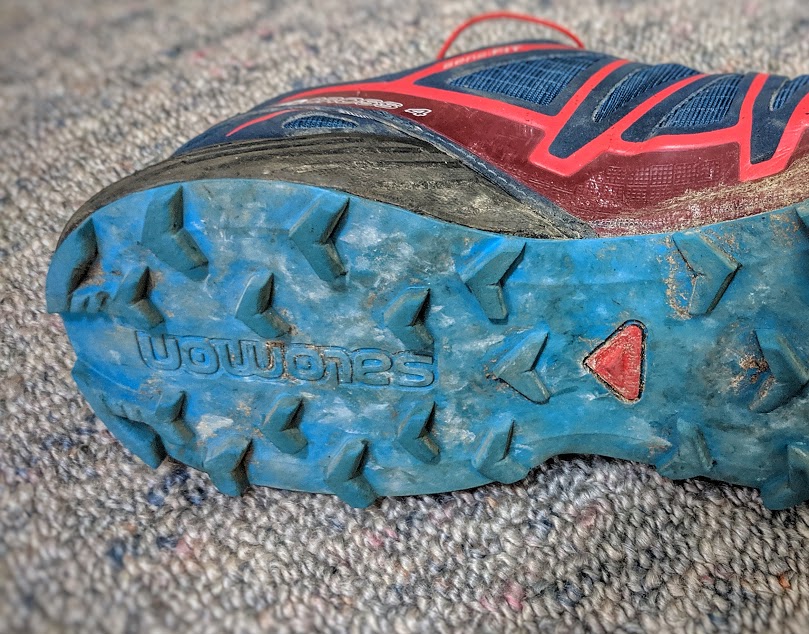 The North Face Ultra Vertical with short, rigid lugs + Vibram Megagrip rubber. These are made to grip well on compressed earth and rock. Great for dry, technical terrain.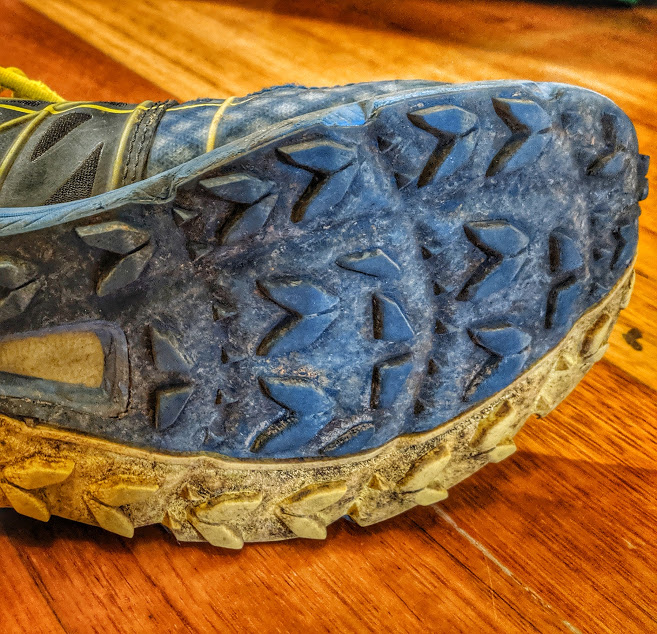 Saucony Peregrine with medium length, soft and uni-directional lugs. These are a perfect all terrain lug which will perform well in most conditions.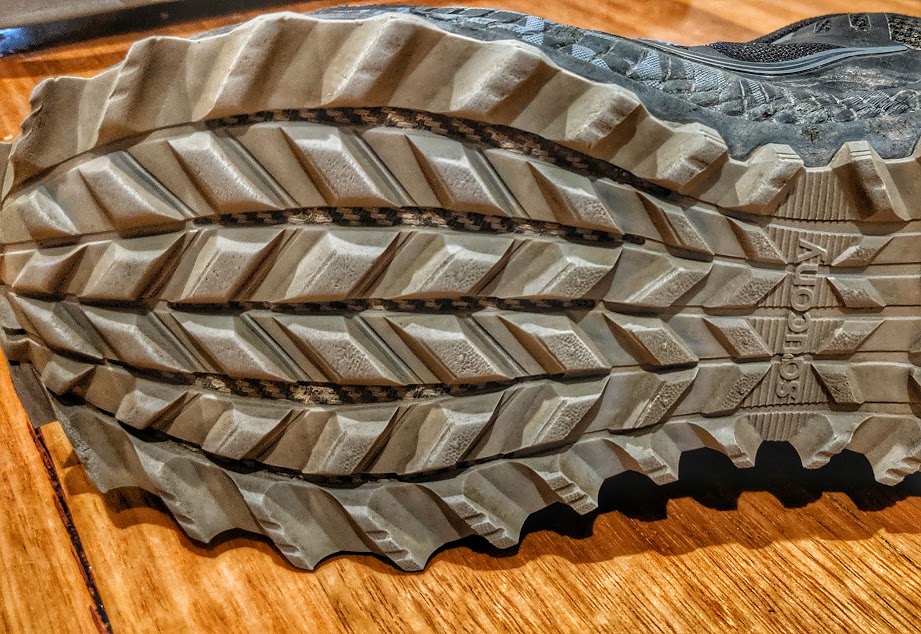 2. Toe Box
The toe box is the front section of the shoe, where your toes will hang out. All toe boxes are on the spectrum of narrow to wide.
Narrow toes boxes provide more stability to the forefoot. This is perfect for those with narrower feet or for shorter runs where speed and precision are essential.
Wide toe boxes are for people with wider feet or for longer runs where your feet will splay out more.
A narrow toe box can result in black toenails and blisters in those with wider feet. For example, the Saucony Peregrine ISO Wide has a far wider toe box than the Salomon Speedcross.
To ensure your toe box is the perfect fit, your small toe should just touch the outer edge of the shoe. It should not be pressed up close to the side, as this will create a friction point.
3. Stack Height
Stack height is the difference in height between the rear-foot and forefoot (this is known has "drop"). Our foot naturally has a drop of "zero". However, everyday shoes can have a drop of up to 20mm or more.
For most runners, beginning with an average stack height between 8-16mm is fine, as this is average for most road running shoes. A drop of 0-4mm is considered a minimalist style or more "natural" style (brands include Vibram, Inov8). However, some runners swear by maximalist shoes, especially for ultra marathons. These can have stack heights of up to 30mm (brands include Hoka One One). Check out our article on the pros/cons of maximalist shoes for runners.
4. Waterproof Trail Running Shoes
Most waterproof trail runners are made using "Gortex"/ "GTX" linings. Waterproof trail runners can be great at keeping your feet dry on a rainy day or for running in shallow snow. However, they can actually trap water in the shoe, as they drain poorly and are less breathable. If you plan to run through rivers, creeks or big puddles, waterproof trail runners are a bad idea.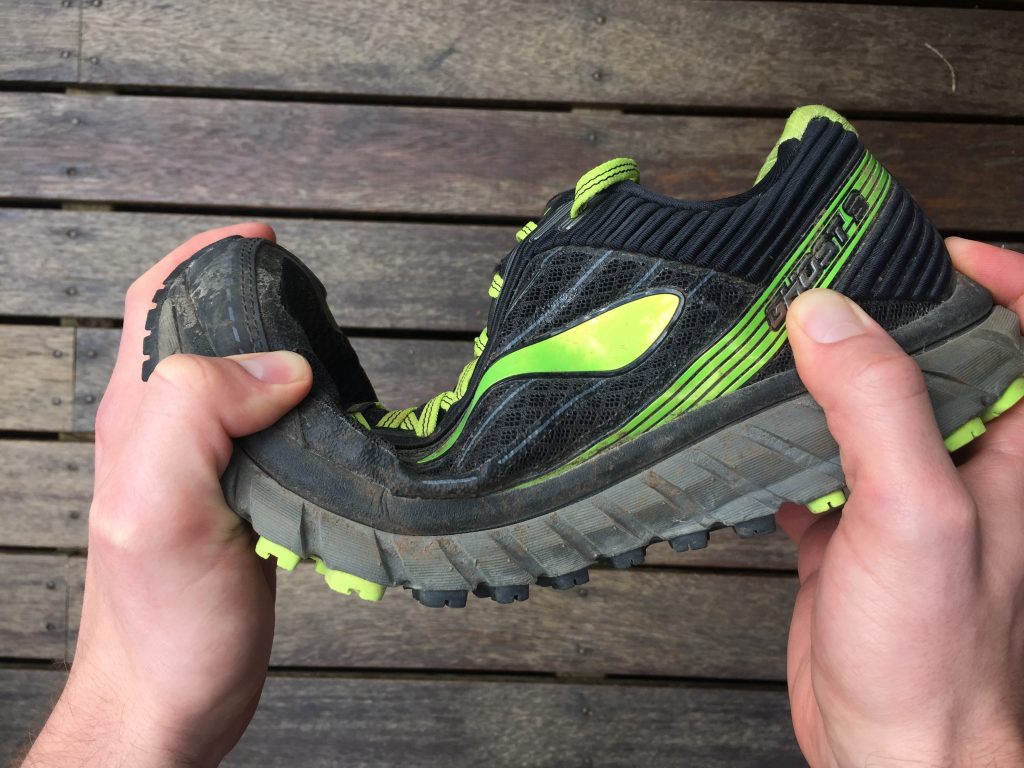 5. How To Size Trail Running Shoes
This is as easy an easy rule of thumb…literally. To determine if your trail runners are the right size, you should be able to fit the width of half a thumb to a full thumb from your longest toe to the end of the shoe. If you are planning to run ultra marathons, ensure you have at least a full thumb's width as your feet will swell over longer distances.
Final Point
Remember that comfort is king! Ask to go for a short run on the street or on a treadmill when buying trail running shoes. Evidence shows the shoes you find most comfortable will actually reduce your risk of injuries!